Note To Reader:

I've waited almost 10 months to post about Stitch Fix which I'll go into a little more in another post, but let me tell you, I am so VERY excited to share this with you. It's right up there with having a REAL LIVE milk man deliver all my dairy products!
............................................................................................
I asked my stylist for A Denim Jacket, a Few Dresses and a Fun coordinating necklace.
My Stylist Catie's Note to Me
"Hi Lili! I hope you've been doing great! I had so much fun styling you again? Thanks for the amazing feedback and for updating your Pinterest board. I saw you added some awesome pins!I wasn't able to pull the Liverpool Jalie dinem jacket but I did pull a super similar style that is amazing. It is a great wash to pair with your favorites! Let me know what you think. I also added some awesome dresses like you requested. The Pixleydress is awesome. The sleeves are flattering and the print is classic. The C. Luce dress is so cute and will look amazing paired with the dinem jacket. Add the necklace included for the perfect touch of shine? Have so much fun trying these on at home? With love Catie"
1. Mavi Kalie Denim Jacket -
I was so excited to see this in my Fix. Since cutting the tags, I've pretty much worn it everywhere: church, the mall, to my daughter's school. It fits well over long or 3/4 sleeves without bunching which is the true test and its super easy to move around in. When I showed it to The Hub for the first time he said "you got a jean jacket?" Total 80s flashback, but in truth, even as a child of the 80s this cutie is my FIRST "jean" or denim jacket and I love it!
2. Pixley Kathy Striped Fit & Flare Dress
- When I pulled this dress out of the box I was immediately impressed with the weight of the fabric. This really is a well made item. The neckline and fit & flare shape are really flattering, I think. It was The Hubs, my 2 sisters and my best friend's first pick.
(and With Denim jacket as my stylist suggested)
3. C.Luce Izzy Striped Dress - First of all the fabric of this dress is really soft and light. It feels really sophisticated but fun. I sort of feel like a Kennedy when I have it on. But I was surprised, although I really like this dress I expected others to like it more than they did. It was everyone's least favorite dress.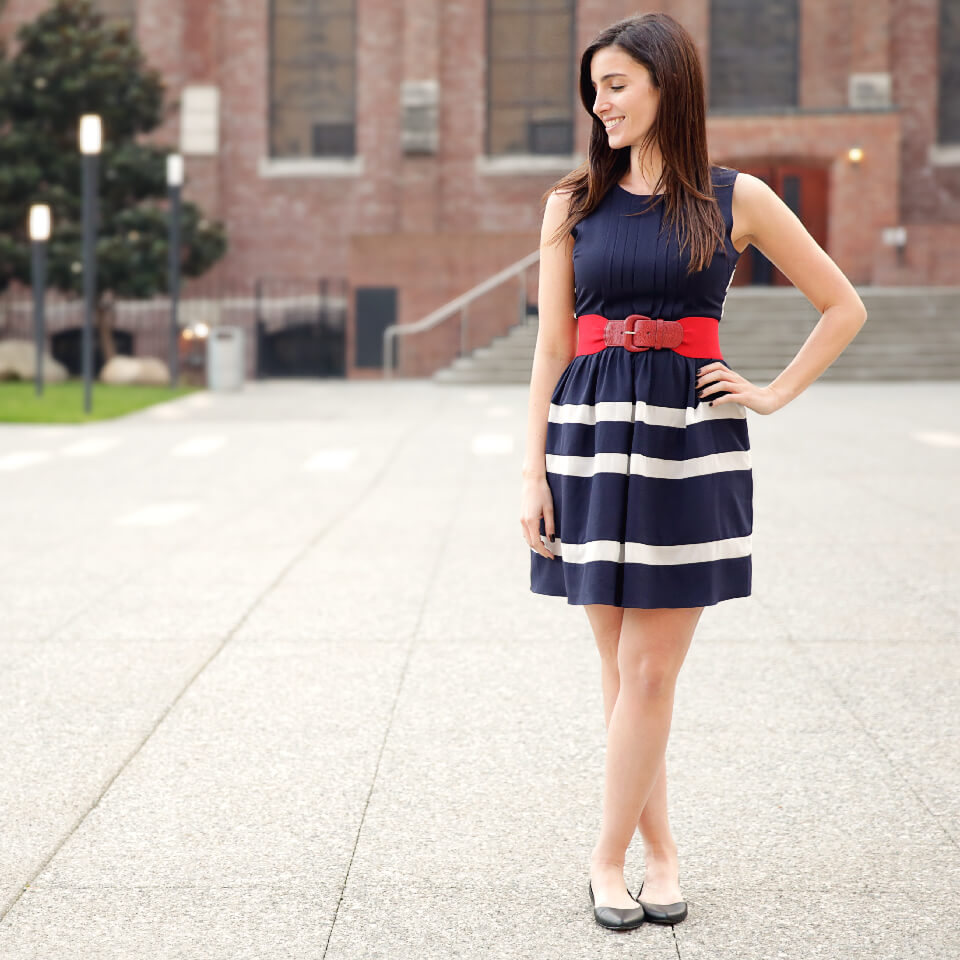 4. 41Hawthorn Renesne Geo Cube Print Faux Wrap Dress.
- I REALLY fell in love with this dress. I knew that with such a simple print it would be perfect for what I was looking for. also after wearing it to church and out to lunch it maintained it's shape. So often with wrap dresses they stretch and the tie loosens throughout the day. because this was a FAUX wrap dress I didn't have those problems.
5. Bancroft Trisha Clover Charm Layering Necklace
- First of all this ISN'T something I would have picked up off the rack, which is really one of the beauties of
Stitch Fix
. I generally do not gravitate toward gold colored jewelry but after deciding to keep it, I've worn it so many times. it really has been a great addition!
For the second time in a row, I kept EVERYTHING! All five items included in my 9th Fix earned a spot in my closet!
Bancroft Trisha Clover Charm Layering Necklace, $32 KEEP
41Hawthorn Renesne Geo Cube Print Faux Wrap Dress, $78 KEEP
Pixley Kathy Striped Fit & Flare Dress, $68 KEEP
C.Luce Izzy Striped Dress, $68 KEEP
Mavi Kalie Denim Jacket, $98 KEEP
Total $344
Subtract Styling Fee $20
With the "Keep All 5 Discount" I saved $81
................................................................................................................
It really is FANTASTICALLY EASY!
The Stitch Fix Q&A page
does a GREAT job explaining everything but the basics are... Fill out your Style Profile. Pick the date you'd like to receive your shipment. you'll pay a $20 styling fee before each fix which is applied to anything you purchase. Your "Fix" will arrive on your doorstep. (My mail lady actually hand delivered my last
Stitch Fix
package just so she could ask me what it was.) Once you have your package in hand, try everything on in the comfort of your home (you have 3 days). After you've had time to try everything on and see how each piece will work you log on to
Stitch Fix.com
and buy what you like and return the rest in the prepaid USP soft pack bag included in your shipment box. You're only charged for the items you keep when you let them know what you're keeping and returning at Check Out. **DON'T FORGET*** The $20 styling fee will be applied toward any items you purchase. Also, ALL Stitch Fix clients enjoy free shipping both ways!
One of the best parts about
Stitch Fix
is that if you choose to purchase all of the clothes in your fix, your order is automatically discounted 25%. Since I bought all of the clothes in my fix, I saved $81.00! The fix cost me $243.00 instead of $344 (which would have been the price without a discount.) This is the third time I've kept my entire fix.
According to Katrina Lake
Stitch Fix
founder and CEO
"Pinterest is by far the most helpful. It's super interesting, and there's a lot of overlap with our audience. Even if you have nothing about fashion on your Pinterest board, you can learn so much by what people are pinning on their decor boards or DIY boards. It gives you a peek into what someone's life is like." - Q&A interview by Dana Hull, with the San Jose Mercury News
See some of my
previous Stitch Fixs
. (Note that I'm working in reverse so if you don't see them up now, I'll gradually have them all up in the near future.) If you're new to Stitch Fix and want to give it a try, please consider signing up using
my referral link
.
Till next time,
Bon Voyage!